Ellen already knows most of this, but here is what I do. IRL, I am a deputy court clerk. My responsibilities include maintaining databases, administering the statewide private process server program in my county, case data entry, processing passport applications and processing electronic document submissions.
In my free time, I collect old military rifles, original comic art and work with antique vehicles-mostly streetcars and buses. I've been involved in vehicle preservation since I was a teenager. My first job was when I was in high school and college. I worked for the Tennessee Valley Railroad Museum in Chattanooga, Tennessee as both a railway conductor and ticket agent. I spent ten years there and when I moved to Tucson, Arizona I joined Old Pueblo Trolley as a streetcar motorman. I quickly rose through the ranks to become an instructor and the manager of the street railway's Training Division. Up until 2008, we operated a streetcar line between downtown Tucson and the University of Arizona using a Japanese trolley car and a Belgian trolley. The railway was volunteer operated and ran Friday, Saturday and Sunday. Hours of operation were 6PM to 12AM Friday and Saturday and 12PM to 6PM on Sundays. Unlike other volunteer trolley organizations, our operations were all in the public right of way-public streets.
Street railway operations were suspended in 2011 as the City of Tucson began construction of a modern streetcar line along our former route. At that time, I transitioned to our Motor Bus Division. Our Motor Bus Division collects, maintains and operates city transit and highway buses that have documented Arizona histories. We have over thirty coaches in the collection and presently have two that are used for display. One is our 1938 Model 1204 Yellow Coach which was built for the Warren Bisbee Bus Line and operated in Bisbee, Arizona before being retired and stored on a ranch. That bus required a complete restoration.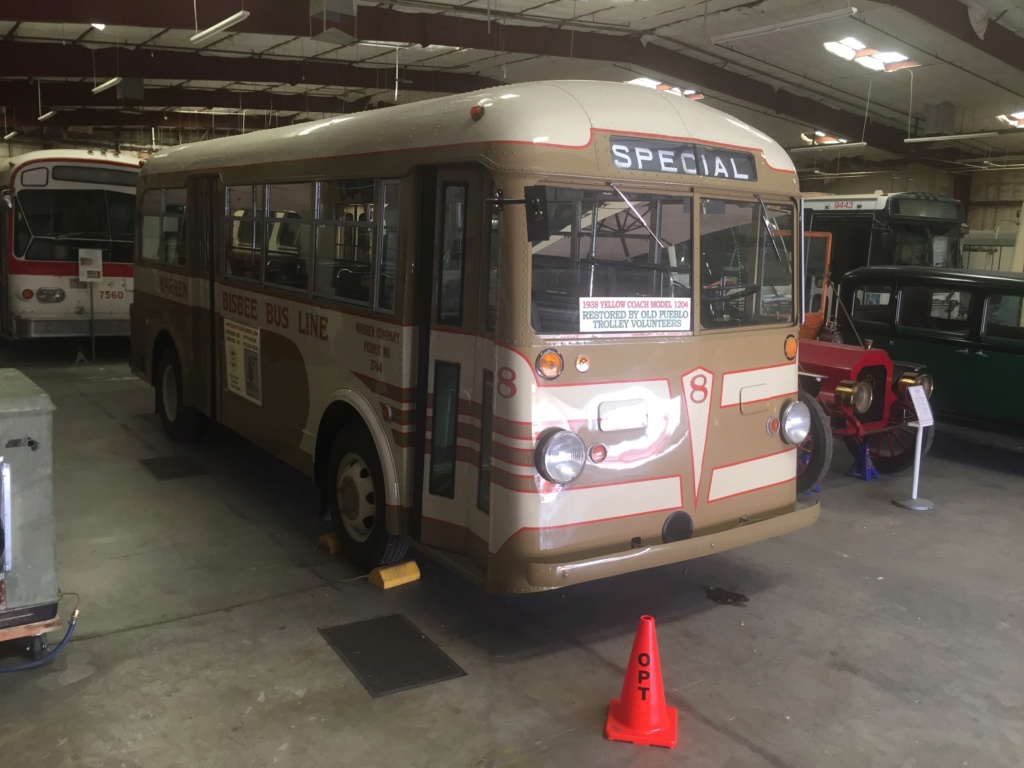 This bus is exhibited at local events and automobile shows. However, it was decided that a second bus should be completed in order to have a back up vehicle to display and operate for special local events and auto shows. I worked with one of our other museum officers to review all of the vehicles in the collection to determine which were viable candidates for restoration. Our objective was to identify the coach that could be put into operational condition with the least amount of work and money.
Eventually, we settled on Old Pueblo Transit Company No. 135-our 1960 General Motors TGH-3102.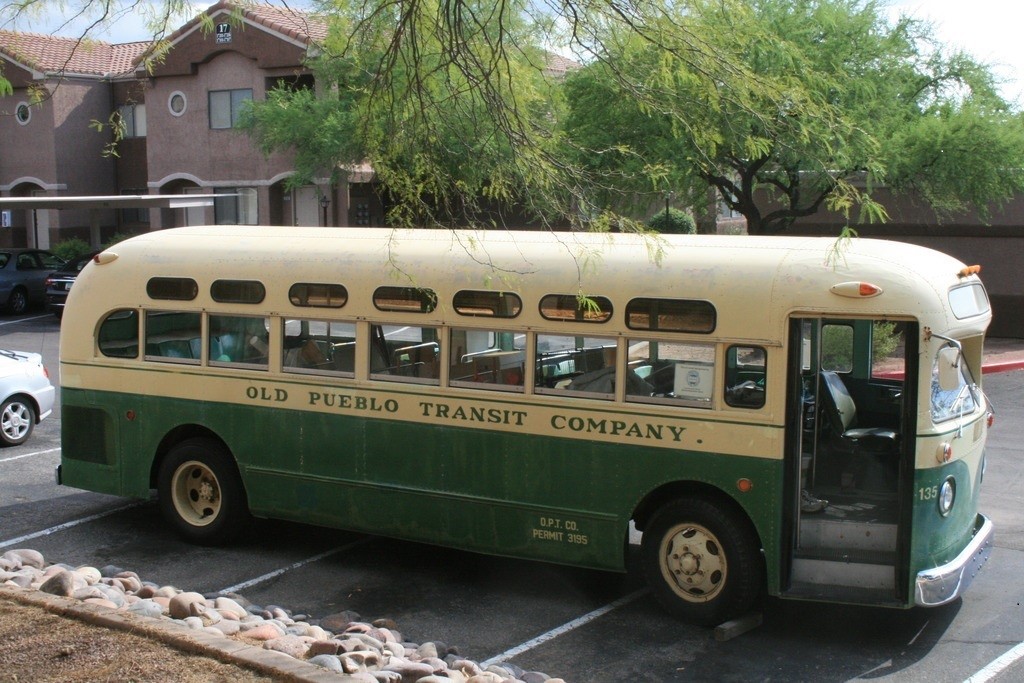 Here we see 135 in the livery that it had when we received the bus as a donation from one of our members. This bus was built for Old Pueblo Transit Company of Tucson, Arizona in October of 1960 and ran in service until 1974. At the time it was donated, the previous owner had painted it in a livery that was used by Old Pueblo Transit Company, but not used on this specific bus. The bus required some electrical work and mechanical work to return it to roadworthy condition. As time and money has permitted, additional maintenance has been done on the coach (including an engine rebuild).
Here we see 135 parked in front of the old Southern Pacific Railroad passenger station during a Southern Arizona Transportation Museum event. Southern Arizona Transportation Museum is a division of Old Pueblo Trolley, Inc.
As part of our conservation practices, we attempt to locate period correct license tags for our antique buses. It took me two years to locate this tag which is used on the 135. Under Arizona law, an antique motor vehicle can use an antique Arizona license plate as its official license tag if the plate issue year is the model year for the vehicle and the registration number is available for assignment.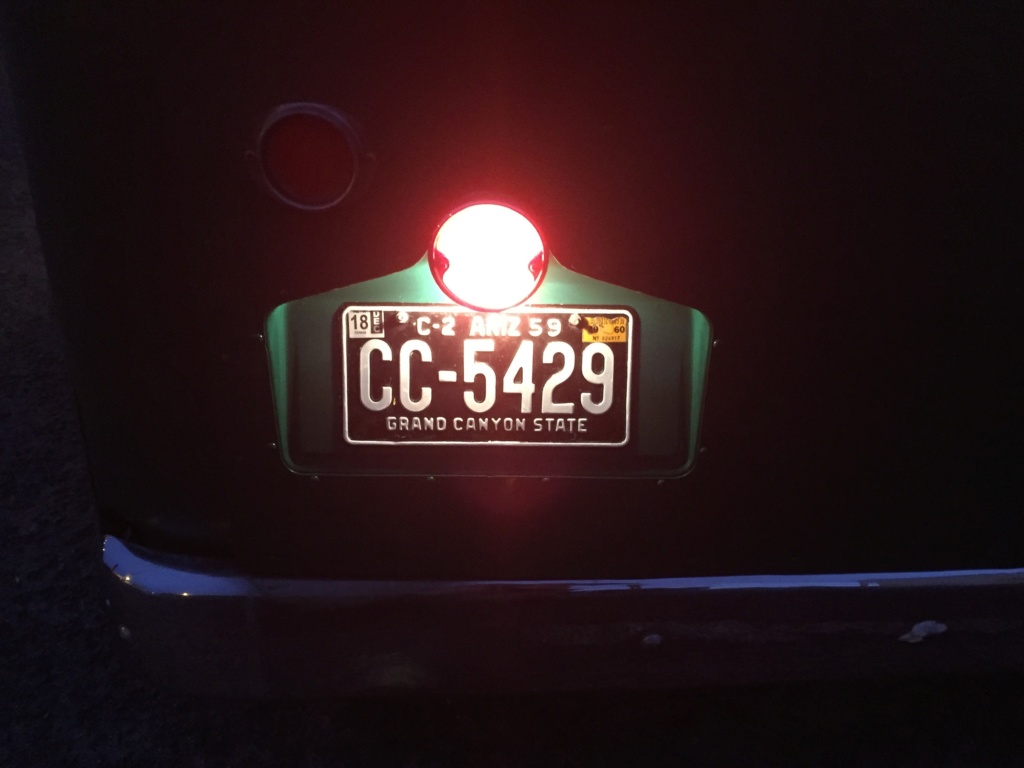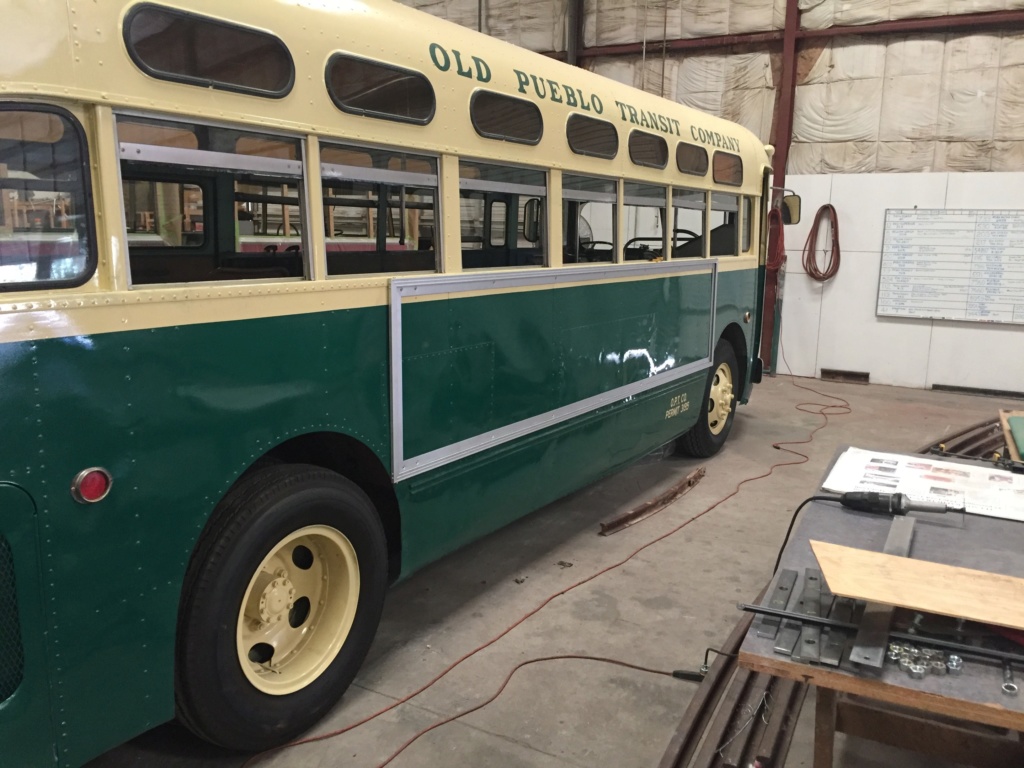 Here we see the last bit of exterior work completed. The bus originally had frames for external advertising panels, which had disappeared by the time the bus was donated to us. Fortunately, the original sign frame manufacturer is still in business and we were able to order replacement sign frames. The frames were modified and installed with the assistance of our machinist, Craig Suter.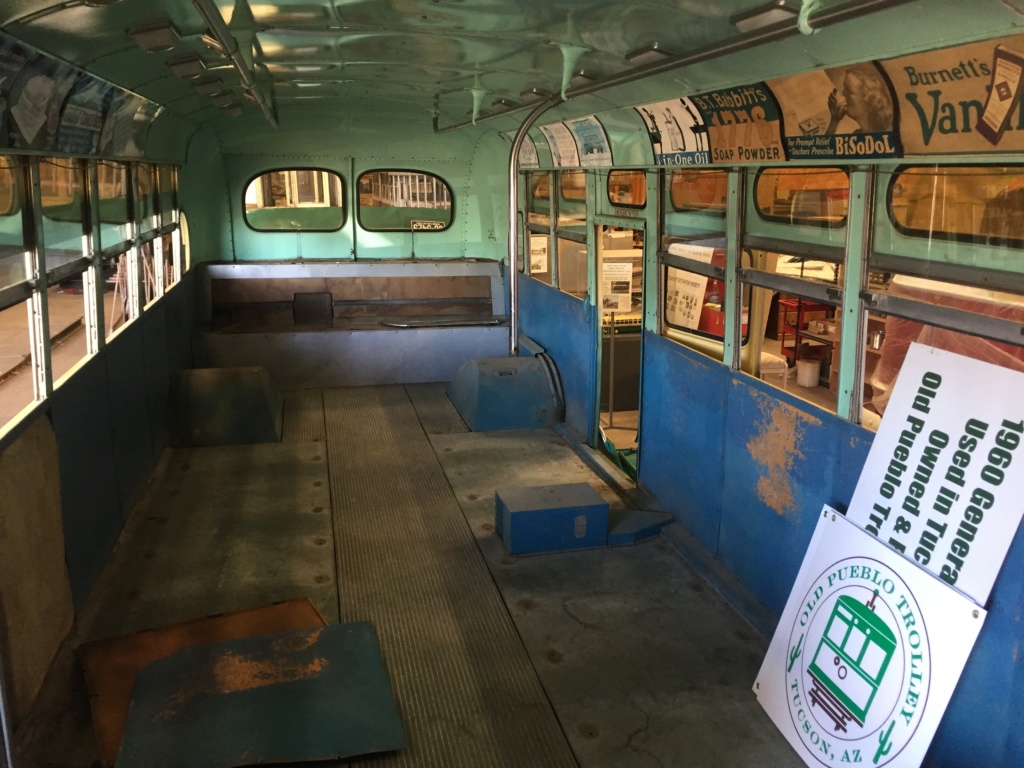 Now we are working on the last bit to complete the overhaul of the bus-the interior. Several Masonite panels had been damaged by moisture over the years. We are cutting replacement panels and repainting them with a close match to the speckled paint interior that it originally had. The fiberglass seats have been removed for sanding, color restoration and resealing. This will cap what has been a multiyear overhaul. This would not have been feasible without the museum library. We attempt to locate and obtain copies of original parts and service manuals for all of the coaches in our fleet. It makes repairs much easier when you can reference parts numbers and servicing information. 135 became my project when we selected it for attention. I worked with our members on raising the money needed and coordinated use of shop resources. What you have seen above is the product of that work. The only pay we get for the work is the appreciation of our community. There are still many Tucsonans who remember riding Old Pueblo Transit as children and they love seeing something from Tucson's past at local events and auto shows. The bus is a very popular exhibit at the auto shows as it is often the only vehicle that you can go inside, much less touch!

Alan Walker




Posts

: 4


Join date

: 2017-02-16


Age

: 42


Location

: Southern Arizona



Sounds like you've had an interesting career! Care to post some pics of your rifle collection? Former Army here and love stuff like that.

Thanks for sharing!

Stitches1974




Posts

: 68


Join date

: 2012-02-20


Location

: Florida



---
Permissions in this forum:
You
cannot
reply to topics in this forum